2D Watch Rendering
Whether we are providing a full design and manufacture service, a complete design solution or you need CAD drawings of your own designs, our extensive 2D design experience delivers precise renderings of any watch or component.
Our highly skilled design team uses the latest technology and software tools to deliver exceptional 2D renders that offer clarity and clear construction detail. Useful for fast-tracked design processes, they are also essential for manufacturing, providing the detail needed for individual components and watch assembly.
Our accurate, effective 2D drawings and watch rendering form an essential part of any development process, not only the basis for detailed 3D renders to visualize your product effectively, but also form the basis of any manufacturing strategy that you deploy.



3D Watch Rendering & modeling

Modern production means an agile design process that brings the product to market quickly, essential to remain competitive in highly competitive markets. Being able to react to emerging market trends is key, and here leveraging the latest in digital rendering technology is crucial.
Our highly experienced industry specialized artists are able to bring your vision to life in 2D and 3D renders. Visualize every detail of the watch, identify any design issues and rectify them before production begins with our state-of-the-art rendering tools. We can even create a bespoke packaging solution that elevates the ownership experience. With all rendered in glorious detail, you can ensure every aspect of the design is perfect before production commences, shortening the prototyping process for a faster time to market.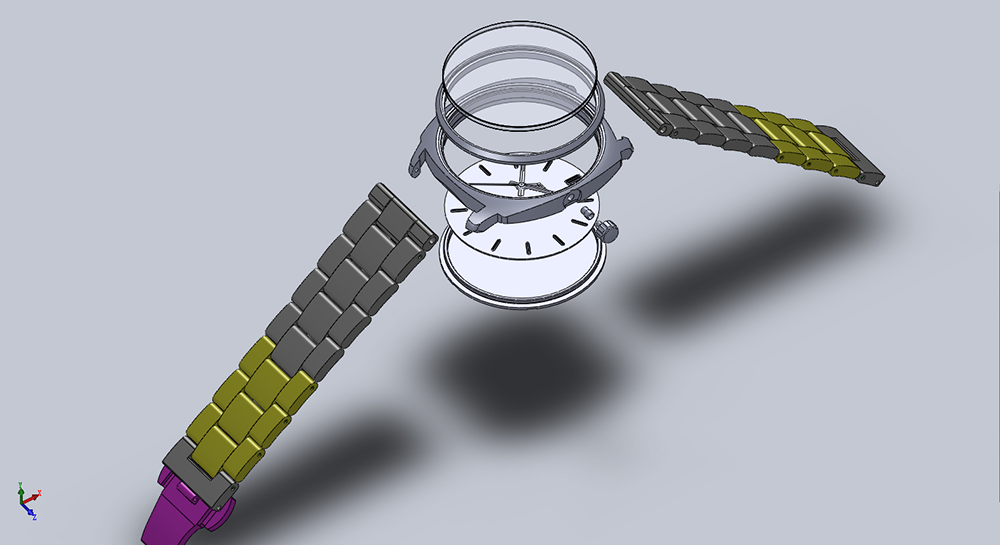 2D/3D Watch Rendering and Modeling Process

Watch design begins with freehand sketches, created from your initial ideas. Once our sketches match your vision, we then create a flat drawing using computer software, offering a more detailed view of the new product as it will look in its final form. After approval of these flat drawings, our designers will move on to a 2D application to create technical drawings of the new watch. Here, dimensions and so on are set, and each element of the watch is carefully placed in a position to provide the technical information that is used throughout the production process. These 2D drawings allow the design to be refined from a technical perspective, ensuring that the shape and size of the watch case, the movement and all other parts actually fit and are capable of delivering a working product.
For 3D modeling, we use an industry-standard software package, SolidWorks, where the 2D designs are transformed into fully realized 3D wireframes. After that, each element is textured and colored by the 3D artist, with the design then fully rendered as a 3D object. This process can take as much as 3 days, or longer for specific projects, however, the result is a lifelike model that can be manipulated on-screen to provide a full 360-degree view of the product. Ideal for watch design and promotion, the 3D rendered images can be exported to a number of formats for use in production, promotion and more.


Importance of 2D/3D Watch Rendering and Modeling
Today the watch industry moves fast, and product development has needed to evolve to meet that faster product cycle and reduced time to market essential for today's watch suppliers. Both 2D renders for watch construction and design work and 3D renders for visualizing product finishes are essential in mitigating the time and cost of product development.
Accurately rendered models allow manufacturers and clients to see every facet of the product before manufacturing begins, allowing changes in materials, finishes and colors to be made instantly to assess product appeal and make final choices quickly. Compared to the process of creating prototypes, watch rendering allows for much faster refinement of development choices and gives watch manufacturers a much clearer picture of the final product.